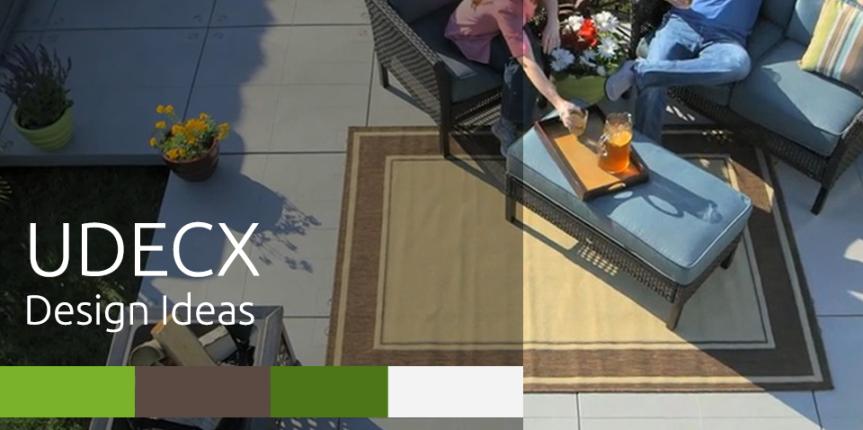 The opportunities for our modular non-slip patio surfaces are virtually unlimited. We offer countless design ideas that will fit your specific needs. No matter what your space is, our outdoor composite decking can create a one-of-a-kind unique environment to enjoy the outdoors. Our durable patio surfaces and outdoor flooring options provide safe play areas for the kids to enjoy. Our non-slip durable synthetic surface is also great for sitting and relaxing or sunbathing. UDECX modular patios are also great for fire pits, picnic tables, a gas or charcoal grill, a bar to entertain friends and family, or tables for hosting a dinner party. It's never too late to start designing a customized functional outdoor area to relax and entertain. The non slip surface is also great around pools or hot tubs. Our composite deck design helps you avoid hiring an expensive contractor or going through the hassles of attaining building permits.
A great feature about our patios is that they are easy to maintain for years of enjoyment. There's no need for painting or staining. There's virtually zero maintenance or upkeep. No drilling, cutting or power tools are required to install our patented modular UDECX system. Unlike traditional decks and patios, our modular synthetic decking system doesn't attract insects or pests. Our patio decking system is portable and can also serve as permanent outdoor living surface.
We can give you the ability to transform the outdoor space around your house. May is upon us! Start making plans for your outdoor living space; it's the perfect time to implement a UDECX design. Now is the time to create a unique deck and living space to enjoy.
Our company is building and growing a brand that is simple, fun and easy to understand. We design our products keeping in mind our consumers needs and challenges they often face when designing and creating an outdoor space. We focus on innovation, convenience, durability and technology when it comes to creating our one-of-a-kind outdoor living products. When you choose to create a unique outdoor living area from UDECX you'll enjoy our products for years to come.
Visit our Design Center to get started on building your own UDECX creation here!