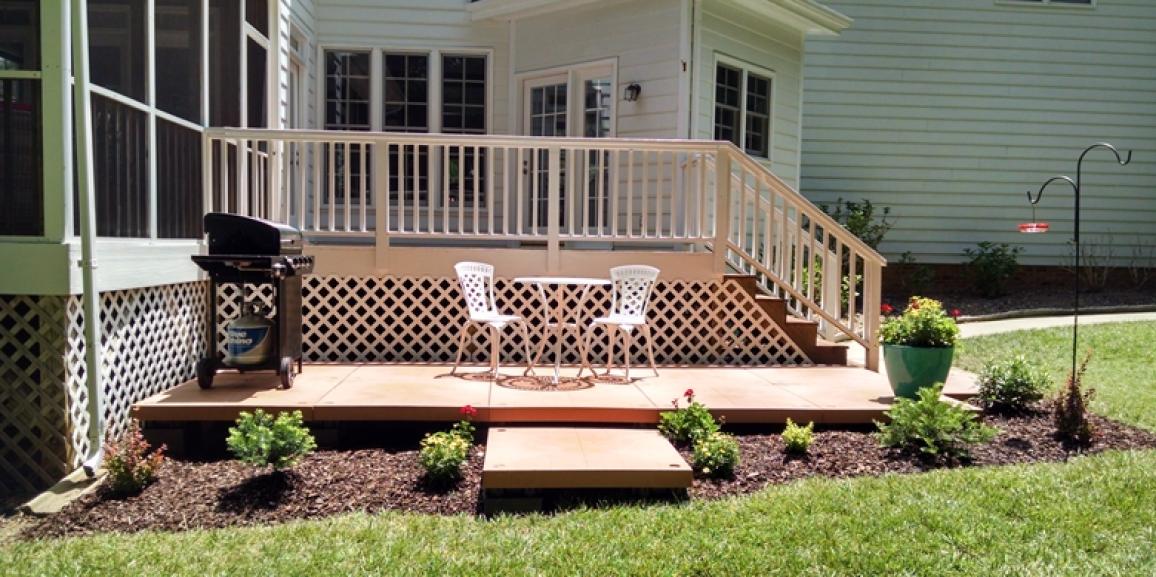 Confession time: Our new-to-us home has entailed a lot of DIY home improvement projects over the last few months, and of course I take a lot of pride in telling our friends and neighbors that WE – as in me and my husband, Roger – did everything ourselves. But the truth is that what I'm really saying is, "I pretty much just watched. Roger occasionally asked me for a pliers, which I happily fetched after Googling 'pliers' to figure out what one was." Yeah, I'm more of a hold-the-screwdriver-and-take-the-credit-kind-of-gal.
So I figured that our latest project would be no different. When I stared at the huge box conveniently delivered to our garage and skimmed the instructions about cam locks and leveling, I supposed I would be doing a lot of pliers-fetching once again.
Turns out, I was wrong. First of all, there are no pliers involved. We needed a hammer and a level (both of which I can locate without Google). The real kicker is that for once – and probably only once – I was an equal partner in the installation of a home improvement project. And for once, when visitors admire our professional-looking new patio and ask who installed it, I can proudly (and honestly) answer, "Oh, WE did it ourselves." It feels even better to add, "And it only took a day."
Here's how I became a DIY expert: We had this lovely garden (i.e. plot of dirt) right off the deck, and although I fancied myself harvesting tomatoes in an apron, it quickly became evident that, barring some refutation of Galileo's discovery, there would never be enough sunshine on the dirt to grow anything of substance. So what to do? We thought about extending the deck – too costly, too high-maintenance, and far too complicated – we would have needed contractors and permits. We considered placing paving stones down for a patio – too costly, too messy, and with four little kids running around, too impractical to think we would ever get it done. But we knew we needed to do SOMETHING.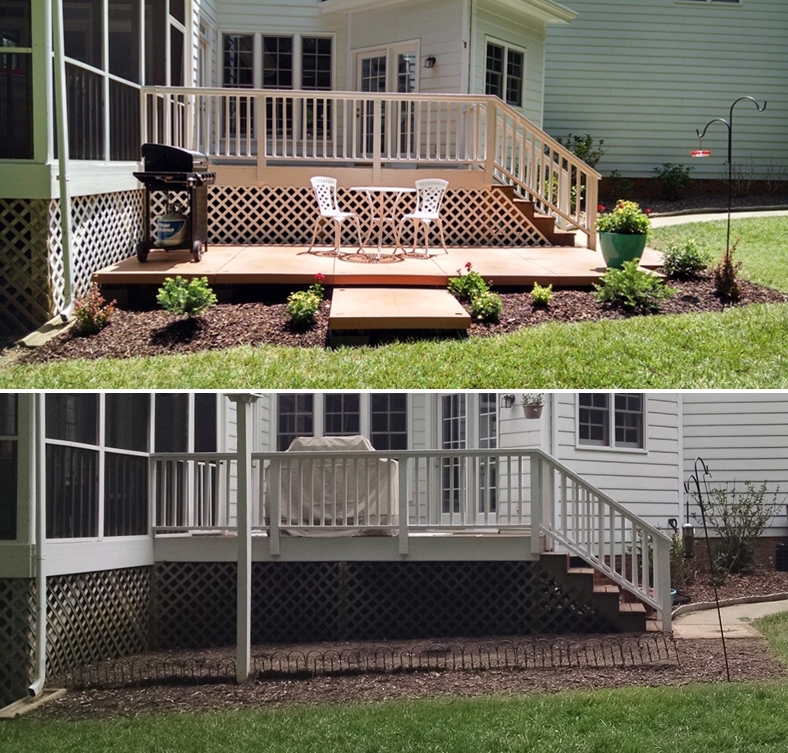 Enter UDECX. UDECX is a gem of a product – and it was everything all the other options were not. It was convenient, relatively inexpensive, simple to install, and completely easy to manipulate into the design we wanted. And now that it's in, when it gets dirty, we hose it off. No painting, staining, or power-washing necessary. As far as patio deck designs go, UDECX was a perfect DIY solution for us.
Once we cleared the ground of rocks and vegetation, it was much easier than I anticipated to level off the site and adjust when necessary. When the four piers for the initial pad are leveled, you just place the pad on them, insert cam locks and lock them in place to secure the pad to the piers.
While I pursued the title of Master Leveler, our three-year-old daughter pursued the distinction of Master Cam-Locker. It's that easy.
Originally we laid our pads in a 5×2 layout, but decided that we liked it so much we would add what we call "step-down" pads on one side and one end to transition nicely to the ground. The Design Center on the UDECX site was very helpful in designing our layout and determining what parts would be needed to implement it.
Start to finish, the project took most of a day. However, that's also including the necessary diaper-changing, fight-breaking-upping, and feeding that comes with being the parents of four. Besides our little Master Cam-Locker, we had a Master Water-Fetcher, and our two boys tried their best to dismember the UDECX pads with heavy jumping and sword-fighting. They failed miserably – UDECX is sturdy construction.
For a little while, UDECX served double-duty as a pirate ship. That's not even listed as a benefit on the website.
Our final act was landscaping, and it took us longer to dig a few holes in our North Carolina clay than it did to install 10 UDECX pads. Of course, by that time, our little helpers had abandoned ship for a nearby sprinkler, and while they ran up our water bill, we felt justified in grilling out and relaxing on our new UDECX patio.
DL – Cary, NC
Visit the Design Center to get started with your own UDECX patio/deck DIY project!