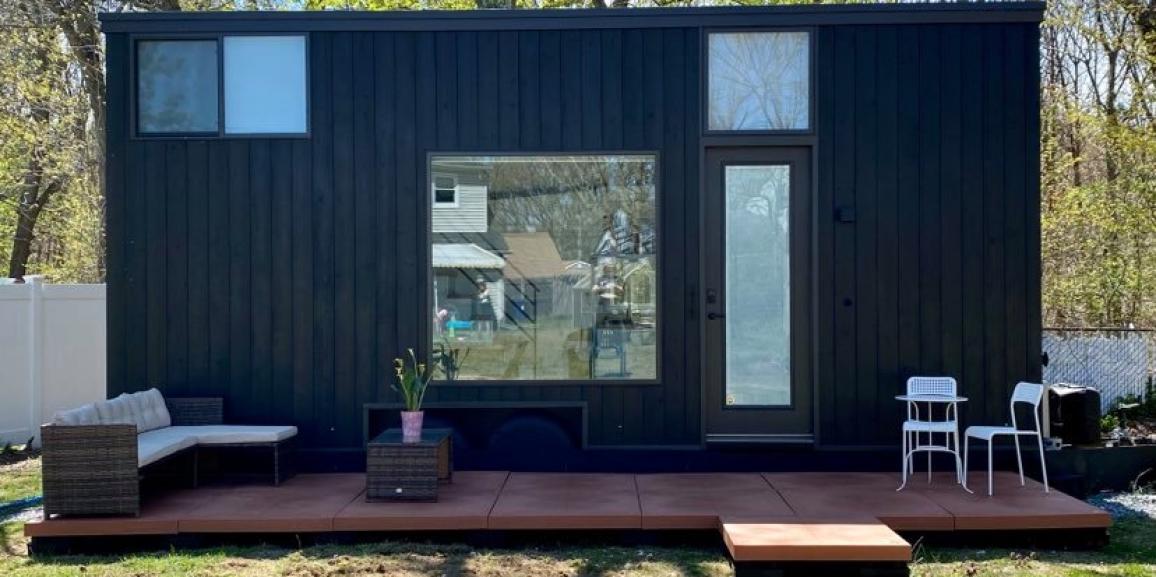 Tiny Home Owner Loves Her UDECX!
It took us just 1 day, about 9-10 hours, including breaks to complete my UDECX installation. I had no building experience or anything like that, but it was very manageable and straight forward to install. The part that took the longest was digging the area where the deck was going to go to get everything as level as possible; but again, very manageable and not really too taxing at all… After having rain most of this week, we were fortunate to have another clear and beautiful day today – this Saturday, and I was able to use and enjoy my new deck for the first time.
My family that lives in the main house that I am quarantined with (my tiny house and me live in the back yard), spent some time today enjoying the deck and having drinks and listening to music; many more deck hang outs to come. Overall the timing of me purchasing this deck was perfect, it gave me a great project to keep myself busy during quarantine, and has increased my living space significantly; just in time for it to become nice out.
It is great to have outdoor space to be able to get outside of the tiny house in general, and especially now that everyone is quarantined and staying at home… I'm excited to be able to improve on the deck and yard over time, next I plan on purchasing UDECX railings, planting flowers around the deck, and more.
Also overall UDECX being a portable and modular DIY deck solution was perfectly aligned with my needs, being a tiny house owner. They're as permanent or not as I would need them to be. So I could take them with me if I ever want to move my tiny house somewhere else in the future, and they were minimally invasive to the yard – considering my parents didn't want anything to permanently alter their yard; especially considering that this didn't require having to deal with getting any sort of town permit to build.
Overall I'm really happy with the way it turned out and I love my new deck!