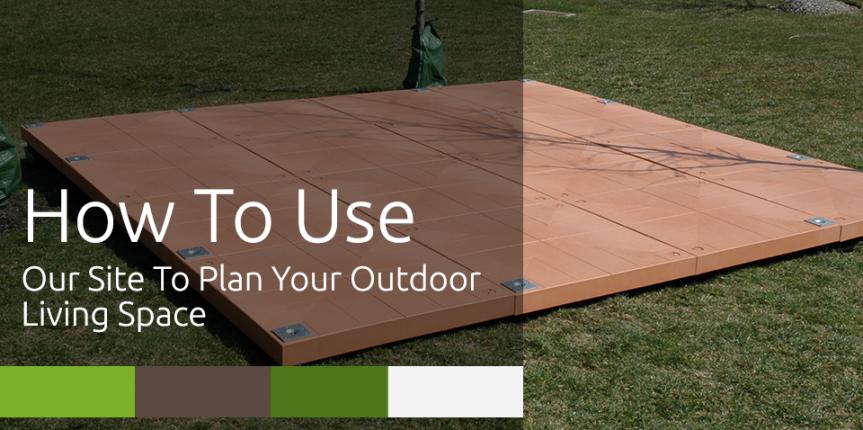 Using our new website is simple and intuitive. All you need to get started is an idea and a vision for the type of outdoor living environment you want. Our patio surfaces can be set up virtually anywhere — in parking lots, campsites, backyards, the beach or even indoors. Start by using your idea and plan what kind of deck you want. You can easily do this in our design center. Whatever outdoor flooring design idea you can conceive can be easily achieved.
Don't worry if you have little direction or just a vague idea of the type of area you want. Our website offers plenty of design ideas that can give you inspiration and a place to start your unique project. When you use our online designer, you can virtually create your own unique patio. We provide you with all the information you need to get started and help you decide where to buy our innovative system.
It all starts with our patented patio decking design that uses all durable synthetic materials. Unlike traditional wood surfaces that can be very costly and require maintenance, UDECX utilizes recycled plastic that is built to last. When you choose our product you'll never have to worry about your outdoor surface rotting or deteriorating. The absence of wood also means no chance for insects or pests to become a problem. Perhaps best of all there is no need for contractors, permits or any type of maintenance. Our portable patio system is simple to install and expandable so that you can design and configure it any way that you like.
In one starter kit you'll receive all you need to set up and enjoy your very own UDECX patio in one box. This 10×10″ modular patio system is easy to understand and install. What makes our system so convenient is that there's no cutting, nailing or drilling required. Most customers find that with two people installations can be completed within a few hours. Install your UDECX patio in half the day and enjoy it in the other half.
The moment you open our UDECX box you'll see components on top and an area where our easy-to-read instructions are located. Each UDECX starter kit includes a solid cast aluminum locking hand tool and forged steel spikes for securing the system to the ground. These are included along with the three main components to our modular patio system; piers, pads and cam locks. If your yard or surface isn't exactly level we also include one-inch shims, three-inch risers and a pier placement template to help easily lay out your UDECX patio.
It's simple. First you select a suitable area to place the piers which can be secured into the ground with the steel spikes. The non slip pad is placed on top of the pier and cams are locked in place using the hand tool to secure the pier to the pad. Our goal is to create unique outdoor products that will enhance any outdoor living experience. Every UDECX modular patio decking system comes with a 15-year manufacturers guarantee.
Click here to see where you can buy UDECX today!