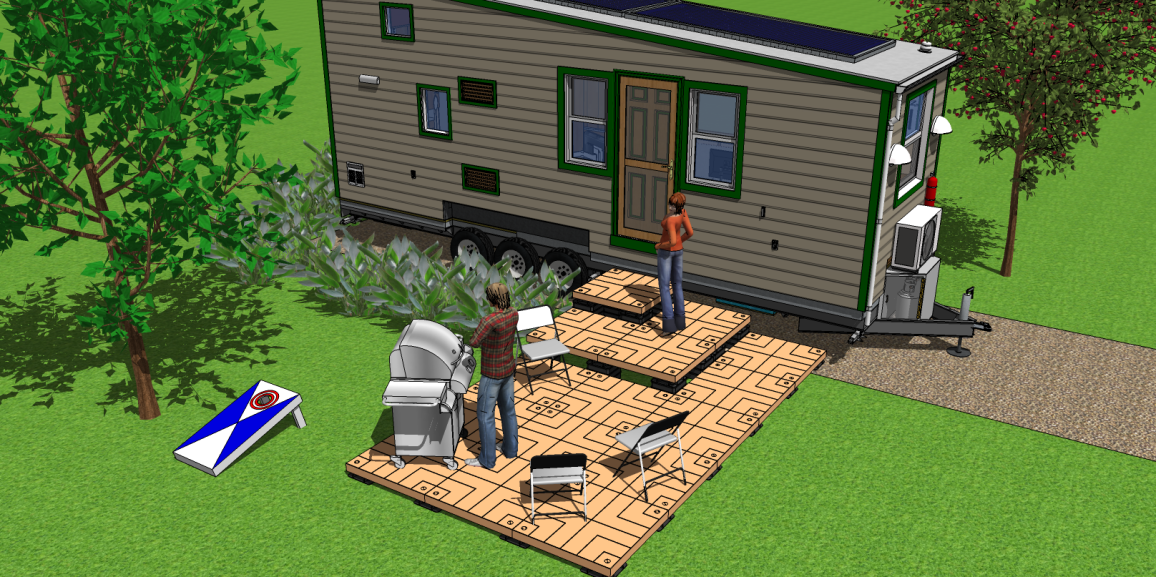 Tiny Homes and UDECX Work Together to Enhance Your Outdoor Living Space
Simple living and an outdoor lifestyle go hand-in-hand with the tiny homes movement. So does the UDECX portable decking system. In fact, UDECX is the perfect solution for tiny home owners who want to easily and quickly create a patio surface to complement their home. What's even better is that UDECX is completely portable, amazingly-easy to install and ultra-low maintenance. The ways to use UDECX are as varied and creative as tiny homes!
Use it for the kids: Kids love wading pools. Parents and grandparents hate that as soon as you set a wading pool up in the dirt or grass, you've created a huge mess. By using UDECX as a patio with your tiny home, you've created a stable, flat, and mess-free surface for your kids or grandkids to play on. Set up that wading pool… or whatever else your kids want to play with!
Don't leave your garden behind: You need lots of space for a garden, right? No! Container gardening is popular and easy – and with UDECX, you don't have to leave your garden behind! Bring those containers with you, set them up on your UDECX patio, and enjoy your home-grown vegetables, herbs, and flowers wherever life takes you.
Dine al-fresco (every day!): One of the greatest benefits of the tiny home movement is the connection with nature. But it's not much fun if you have to dine inside every meal. So move those early breakfast
s and candlelit dinners outdoors on your UDECX patio! Because UDECX provides a flat, steady surface, you don't have to worry about wobbly chairs or dirt between your toes. All you have to worry about is that delicious meal.
Bring that hammock with you: You don't need trees to relax in a hammock. UDECX provides the perfect platform for your portable hammock. Just install your UDECX, set up your hammock, and spend the rest of the afternoon napping.
Tiny homes are great. And with the addition of a portable, modular UDECX decking system to expand outdoor living, tiny homes are even greater.